Advocacy & Lobbying – Effecting Systemic Change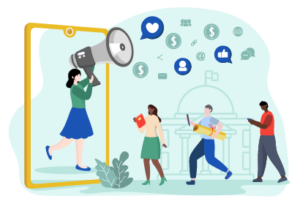 If your 501(c)(3) public charity is sitting silent on the sidelines when it comes to public policy matters, your organization isn't doing the most it can to drive meaningful systemic change.
In this how-to guide, we cover the basics and beyond of nonprofit advocacy to give your organization an edge for making impact. Here, you will find effective and easy-to-implement strategies and tools to help change laws and further your mission.
This is a roadmap for understanding how advocacy gets done – and gets done well, particularly in Pennsylvania – and it's also a guide for staying in compliance with the laws that regulate lobbying activities of nonprofit organizations. This guide is specifically drafted for 501(c)(3) public charities, as different lobbying rules apply to other types of tax-exempt nonprofits (including other types of 501(c)(3) organizations, like private foundations).
Remember – the information in this how-to guide is general in nature and for educational purposes only, and the documents offered on PAnonprofitlaw.com are just samples. For more about how to use these resources, see our About Us page. This website does not provide legal, lobbying, fundraising, or any other advice. If your organization wants to engage in advocacy work and has questions about legal compliance, your organization should consult with and engage professionals who specialize in and understand the unique needs and rules that apply to nonprofits engaging in advocacy work.
---